We're not sure what kind of Mickey Mouse wizardry is behind it, but Disney knows how to make food look good, even in cartoon form. Somehow the animated stuff comes across as just as delicious as glossy hi-res shots in certain magazines (ahem). From heaping plates of fried beignets to a towering layer cake that would make any 10-year-old (or… adult) suddenly crave buttercream frosting, here are the 11 best food scenes from Disney movies, according to the food and Disney obsessives of Bon Appétit.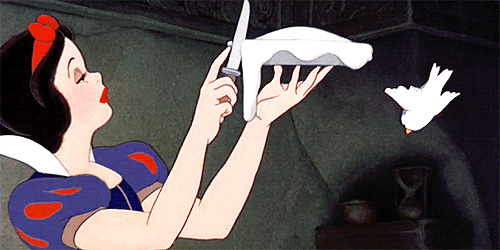 Baking a Pie in Snow White and the Seven Dwarfs
Of all of the animals handling food in Disney movies, none are more endearing than the birds who help Snow White prepare a gooseberry pie for Grumpy. They sprinkle flour with their flapping tails, print perfect decorations in the crust with their feet, and trim the excess dough with their beaks like a bunch of little sous chefs. As Snow White finishes, the Evil Witch shows up and tries to convince her to bake an apple pieinstead, handing her over fruit from a basket. All the birds know that this is because the apples are poisonous, so off they fly to warn the seven dwarfs. Now that's some high-stakes baking.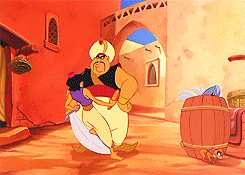 A Stolen Loaf of Bread in Aladdin
Aladdin scales the side of buildings, slides across a clothesline, disguises himself as a woman, has his monkey do some intervening, and jumps across a bed of hot coals—all for a stolen loaf of bread, all while singing a very catchy tune. It's a warning in shoplifting, as well as charity. In the end, he gives the bread away to two hungry children looking for food in the trash, a move that might even be more heroic than when he fights Jafar-turned-crazy-terrifying-giant-snake.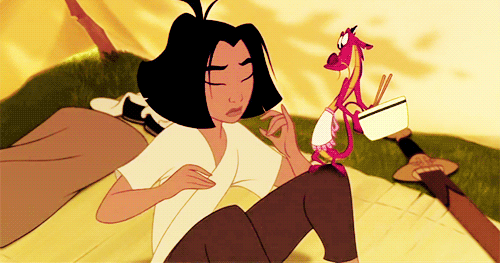 Fried Eggs and Bacon in Mulan
On her first day of training, Mulan's trusty sidekick Mushu makes and feeds her a bowl of porridge with two fried eggs and a piece of bacon (in the shape of a smiley face, for good measure). She's overwhelmed, exhausted, and about to walk into high-intensity training surrounded by a bunch of soldiers who think she's a dude. For all of Mushu's badgering and impulsive decision-making, nothing says you're a good friend like serving breakfast in bed.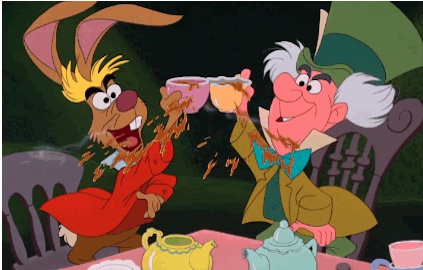 An Obscene Amount of Tea in Alice in Wonderland
When Alice stumbles into the tea party with the Mad Hatter and the March Hare, you wonder if they're drinking more than, well, tea. They're sipping out of top hats and dipping saucers into steaming liquid before chomping down like it's toast. They spread butter and jam inside of the White Rabbit's watch, dump mountains of sugar over everything, chase the drowsy dormouse up and down the table, and break nearly everything in sight. In this moment the wild, upside-down world of Wonderland is as surreal as it gets—terrifying and inviting all at the same time.