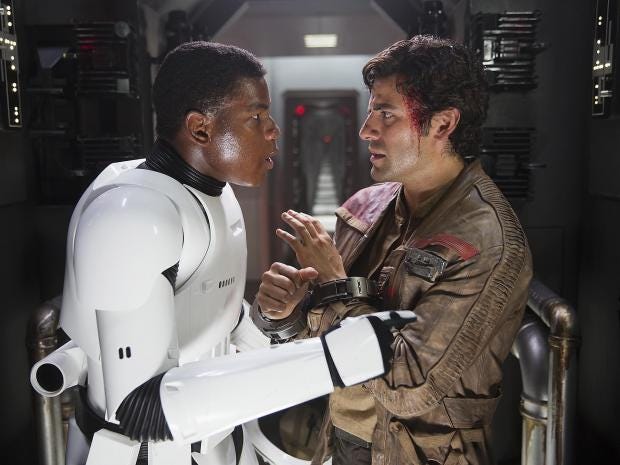 Tucked away within Netflix's vast library is this 1950 classic which sees Bette Davis play an ageing Broadway star whose life is upturned by the arrival of young fan Eve Harrington (Anne Baxter). It remains the only film in Oscar history to have received four female acting nominations (the lead duo for Best Actress and Celeste Holm/Thelma Ritter for Best Supporting Actress).
Brooklyn Nine-Nine
The festive period is as good a time as any to catch up on the first three seasons of one of the funniest sitcoms around. If you arrive for Andy Samberg's Jake Peralta – who leads the ensemble of diverse characters based in a New York police precinct – stay for Andre Braugher's Emmy-nominated performance as the stony-faced Captain Holt. While unconfirmed, Netflix usually drops new episodes in January so keep your eyes peeled.
Dark
This new German-language series sees the lives of four families thrown into turmoil following the disappearance of two young children in a small town, an event which – through means that won't be spoiled here – propels them across varying periods of time. Think Nordic noir-style grit with Lost-sized cliffhangers.
Lovesick
Originally titled Scrotal Recall, this British sitcom – originally aired on channel 4 back in 2014 – manages the feat of making a story about a young guy who must inform all of his previous sexual partners he has chlamydia into an actually rather charming watch. A brand new third series is set to be released on 1 January.
The Keepers
This seven-episode documentary series explores the unsolved murder of Baltimore nun Cathy Cesnik and her former students' beliefs that there was a cover-up of sexual abuse at the High School where she taught them. A must-watch for Making a Murderer addicts – and one that will leave you rattled.
Justin Timberlake + The Tennessee Kids
Justin Timberlake embarked upon his 20/20 Experience World Tour with collective The Tennessee Kids in 2013 – the final performance of which was thrillingly captured by The Silence of the Lamb director Jonathan Demme. It would later become the filmmaker's final feature before passing away in April 2017.
Krampus
The number of films to have successfully merged Christmas and horror can be counted on one hand – but throw comedy into the mix and you have Krampus, a tale which sees the summoning of an ancient demonic spirit to punish a dysfunctional family who appears to have lost all Christmas cheer.
Notting Hill 
If you're in need of a Richard Curtis fix but don't fancy Love Actually (which arrives on Netflix later this month), Notting Hillwill dish out all the British cheer you need. Roger Michell directs from Curtis' script which tells the story of Hugh Grant's independent bookstore owner who falls for Hollywood film star Anna Scott (Julia Roberts).