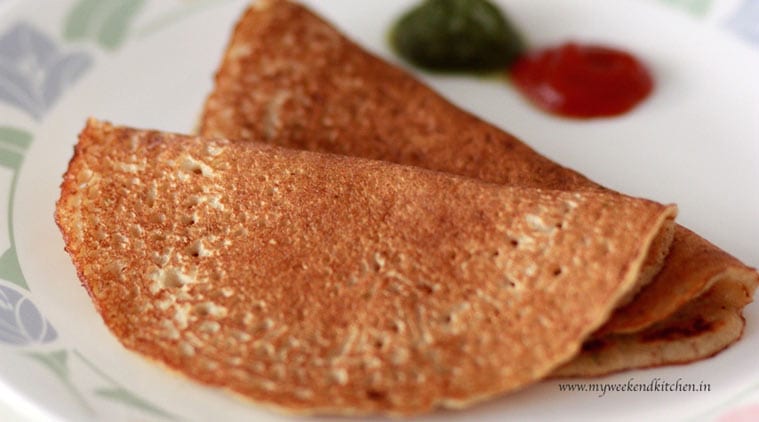 The healthy daal cheele (savoury crepes) are a breakfast favourite but they make for great evening snacks as well. The first time I made them was entirely by chance. My parents were visiting and I had soaked moong daal to make pakoras for snacks with evening tea. My mother instead showed me how to make these quick daal cheele as snack instead of fried pakoras.
I recently made these in place of chapati when I had a friend over for dinner. She is on a gluten free diet and these were just perfect.
This is the recipe for the basic crepes. You can experiment with other kinds of lentils and also add vegetables of your choice. Just grate all the vegetables you want to add and mix them into the batter.
Moong Daal Cheele
Preparation Time: 10 mins (+soaking time) | Cooking Time: ~3-4 mins per crepe | Makes 8
* 1 cup yellow Moong daal
* 2 green chillies, finely chopped
* 1 inch fresh ginger, peeled and grated
* Salt to taste
*Soak daal in 3 cups water for 3 hours
* Drain, add salt, ginger and green chillies to the daal and grind to a smooth paste using a hand blender. The paste should have the consistency like that of idli batter or a crepe batter. Add some water if it's too thick.
* Heat a non-stick flat pan or a tava
* Sprinkle some oil. Add a spoonful of batter in the center of the hot pan and spread into a circle using the back of the spoon with a light hand. Do not press the batter hard with your hand, just spread it. If you are having difficulty spreading then it might be that the batter is too thick. Add some water to the batter.
* Sprinkle some oil on all sides and cook for a couple of minutes till the side is golden brown in colour.
* When the crepe gives way easily, turn it over and cook for another couple of minutes.
* Repeat for remaining batter.
* Serve hot with coriander chutney and ketchup. They go great with pickles as well.
["source-indianexpress"]