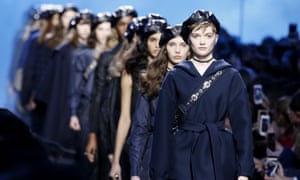 France's top fashion houses have pledged to stop underage and size zero models from featuring in catwalk shows and advertising campaigns.
The move, which comes on the eve of New York fashion week, was announced by French luxury groups LVMH and Kering, owners of some of the biggest labels in haute couture including Saint Laurent, Louis Vuitton, Christian Dior and Gucci.
The industry has long been accused of promoting unhealthy body images to women and ignoring well-documented health problems experienced by models. This year the French government voted through a law requiring models to have a medical certificate confirming they were not dangerously underweight.
The LVMH-Kering Charter on working relations and the well-being of models bans certain designers from featuring women who wear the French size 32 – a size zero in the US. Female models must be at least a French size 34 (US size 2; UK size 6) and male models a French size 44 (internationally labelled as XXS).
It added: "No model under 16 years will be recruited to take part in fashion shows or photographic sessions representing adults."
Antoine Arnault, son of LMVH director Bernard Arnault and a member of the company's management, said: "A young girl of 15 years old does not have the necessary experience to deal with the difficult world of modelling."
François-Henri Pinault, son of Kering owner François Pinault, added: "We wanted to move quickly and hit hard so that things really change. We're trying to persuade as many others in our profession to follow us."
Kering and LVMH said the rules would apply to all companies in their groups.
"The two groups are placing respect for and the dignity of women at the heart of their values: that's why we've always had, in particular, the wellbeing of the models we work with in mind," it said.
"The two groups have agreed to only work with models who hold a valid medical certificate proving their good health and ability to work, which must have been obtained in the six months before a photo session or show."
As well as banning underage models, those between 16-18 years will no longer be allowed to work between 11pm and 6am and must be accompanied by a parent or chaperone if required to stay away from home.
"The wellbeing of our models is a fundamental subject," the statement from LVMH read.
["Source-timesofindia"]