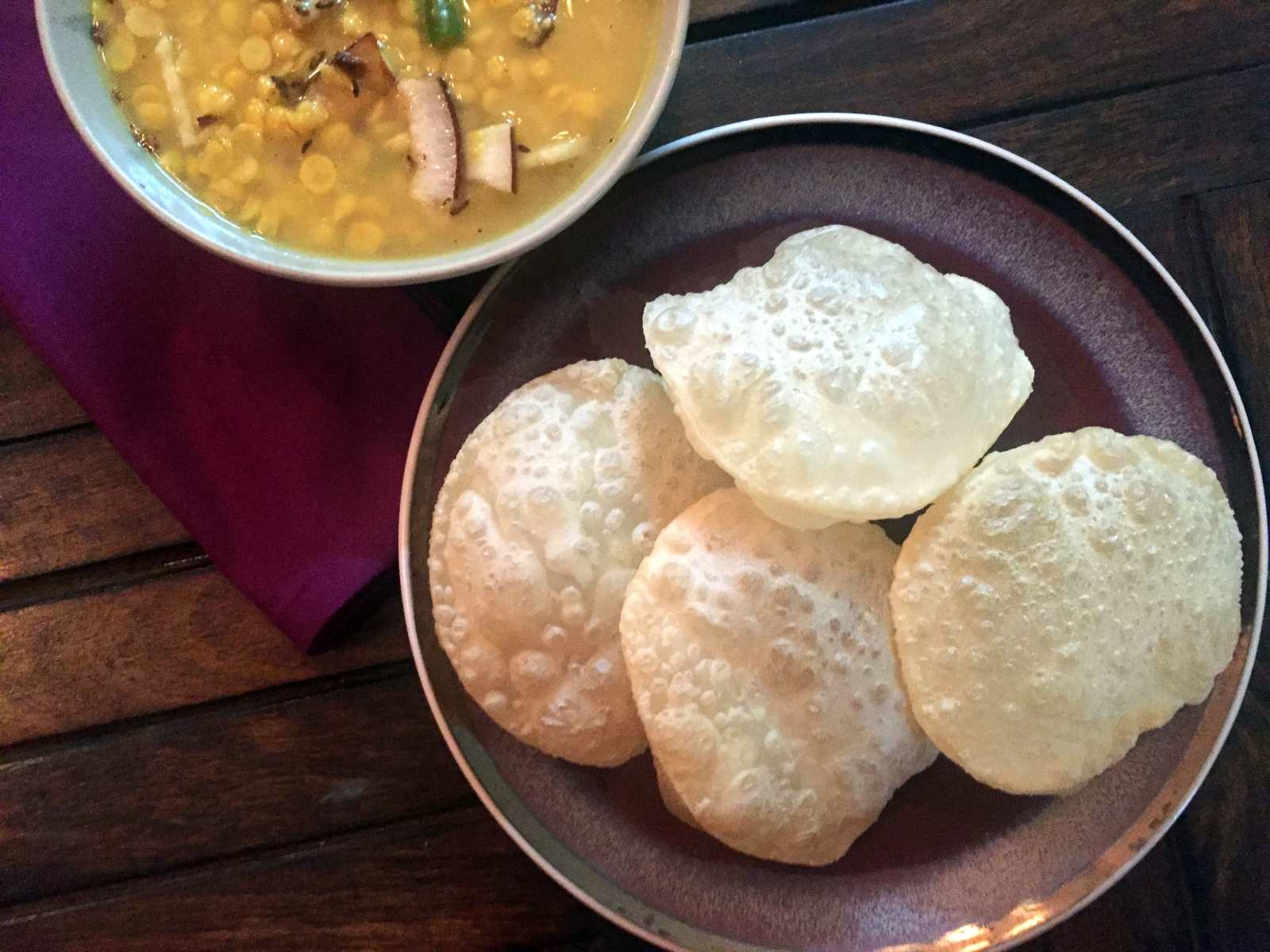 The North-Eastern part of India showcases a variety cultures and traditions and a lot of them are reflected in their cuisine and local eats. The regional dishes are a unique blend of flavours and colours and use some exotic ingredients like bamboo shoots, bhut jolokia, fresh fish and other local tubers and greens. The rich cuisine of the North Eastern states is much more than hot momos and spicy chutneys. Here's how some of the most famous breakfast dishes from each of the beautiful North Eastern states of India look like. Someone rightly said that if you start you day with a good breakfast, you'll be unstoppable.
1. Manipur
A typical Manipuri breakfast consists of a type of flatbread known as Tan which is usually enjoyed with black tea (also known as Changang) and it resembles a puri. Tan can be made with refined or a mix of rice flour, salt and water which is known as Temai Tan. It also often served with a potato curry made in mustard oil called Aloo Kangmet.
In Meghalaya, people usually start their day a pancake-like dish called Putharo. It is made with rice flour, jaggery and coconut and then baked in an earthen pot. It is usually served with black sesame seed and pork curry. Pukhlein is another popular breakfast dish from Meghalaya. It is sweet bread also made with rice flour and jaggery.
3. Assam
Jol Paan is the traditional breakfast in Assam. It is a mix of puffed rice, flattened rice, jaggery and curd. It is healthy and nutritious and gives you a great energy boost right in the morning. Another dish served for breakfast in Assam is the Paani Pitha which is a type of savoury crepe made with wheat flour and onions. It is soft in the middle with crispy edges.
4. Nagaland
Black or red rice with meat curry  or a curry with local fermented greens is a common feature in most Naga meals but they also enjoy an interesting breakfast snack called Egg Shoap. This fried cutlet consists of eggs, potatoes and some spices. Everything is mixed and rolled into a cutlet, coated with bread crumbs and then fried.
5. Arunachal Pradesh


The regional breakfast meal of Arunachal Pradesh comprises of Khura, a pancakemade with buckwheat flour along with the famous butter tea made with yak milk. Traditionally, Khura is made with buckwheat, Tibetan beer known as Chang, water and salt and it is baked in a clay oven.
6. Tripura

In Tripura, a different kind of sweet poha is usually enjoyed for breakfast. Poha is cooked like a porridge with yogurt, nuts and mango and this dish is popularly known as Chire Doi Aam. It is very soothing and is also enjoyed in West Bengal.
7. Sikkim


The local breakfast meal of Sikkim includes whole wheat breads known as Phale that are eaten with a special type of cheese made with cow's milk and aloo dum. Some households also start their day with a heavier meal that consists of lentils, local vegetables, rice and homemade pickles.
The regional cuisine of these North Eastern states is known for the simplest of dishes made with exotic local ingredients.
["source=food.ndtv"]