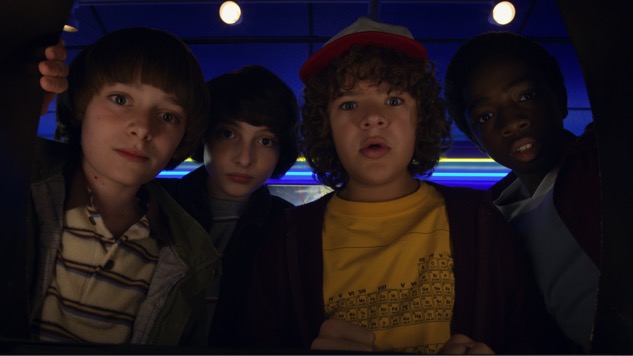 The spookiest month of the year is right around the corner, and while Netflix is adding very little by way of horror movies and television, the streamer's incoming selection is still, as they themselves say, "terrifyingly good." Let's find out what's going to be distracting us all from our social lives this Halloween season, shall we?
Netflix's biggest addition of October is unquestionably the second installment of their hit supernatural adventure series Stranger Things, due out on Oct. 27. At the end of the show's massively popular debut season, Eleven (Millie Bobby Brown) had disappeared into the Upside Down after vanquishing the Demogorgon, while young Will Byers (Noah Schnapp) had been returned safely to his family. Season two takes place one year later, per Netflix's official synopsis: "It's 1984 and the citizens of Hawkins, Indiana are still reeling from the horrors of the Demogorgon and the secrets of Hawkins Lab. Will Byers has been rescued from the Upside Down but a bigger, sinister entity still threatens those who survived." We say bring it on. Other notable Netflix originals coming next month include season one of David Fincher's Mindhunter and season four of Voltron: Legendary Defender, both of which start streaming on Oct. 13.
Where film is concerned, Netflix is adding a number of must-see titles, including Stanley Kubrick's final film Eyes Wide Shut, Quentin Tarantino's claustrophobic Western The Hateful Eight, Paul Thomas Anderson's sprawling porn drama Boogie Nights, charming bromantic comedy I Love You, Man, Leo DiCaprio-led thriller Blood Diamond, underrated Will Ferrell farce Talladega Nights, Richard Linklater's acclaimed Before Midnight, and the Chris Farley-starring comedy classic Tommy Boy. The streamer has also queued up a couple of intriguing original films, including Noah Baumbach's The Meyerowitz Stories (New and Selected) and Frank Grillo vehicle (no pun intended) Wheelman, plus much-anticipated documentaries The Death and Life of Marsha P. Johnson on Oct. 6 and Joan Didion: The Center Will Not Hold on Oct. 27.
And lest we forget that "Netflix is a joke," it bears noting that the streamer has a handful of new stand-up specials on the way, led by the always-excellent Patton Oswalt's Annihilation on Oct. 17 and Judah Friedlander's America Is The Greatest Country In The United States on Oct. 30. For stand-up fans interested in digging a little deeper, next month will also see new comedy specials from Rodney Carrington, Christina P and Alex Fernández.
All good things must come to an end, and in October, that includes the Netflix tenure of a number of outstanding movies and TV shows. In film, we're losing the likes of Kubrick's classic adaptation of The Shining (our number-one horror movie on Netflix, and a particularly egregious loss in October, of all months), David Lynch's masterpiece Mulholland Drive, Best Picture-winning biopic Patton and James Cameron's romantic epic Titanic. On the television side of things, on their way out are all seven seasons of 30 Rock, all five seasons of Louie and Friday Night Lights, seasons nine through fourteen of Family Guy, and seasons five through eleven of Bones. Ouch.
Check out Netflix's October sizzle reel below, and find the full list of next month's additions and subtractions beneath that.
["Source-cnbc"]