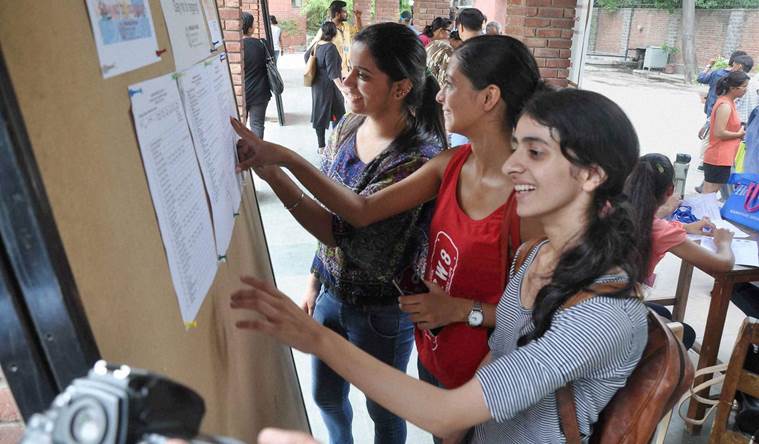 Struggle for students appearing for different medical entrance exams, conducted by medical colleges and state boards. In order to seek admission into medical courses, it was resolved by bringing up a single medical entrance exam National Eligibility cum Entrance Test (NEET).
NEET is conducted to provide admission in any Graduate Medical Course (MBBS/BDS) or Post Graduate Course (MS/MD) across India.
But the confusion for aspirants did not end there as another crucial part lies in choosing the best college. After getting a good score in the NEET, you will have to go through the phase of college selection.
Therefore, to ease your work, we bring you the top 11 Medical colleges in India accepting NEET score. This comprehensive list of institutes is prepared after considering all the factors which will help you in making the right decision.
Christian Medical College, Vellore
This should be the top pick college in your choices. CMC is one of the oldest Medical colleges in India. CMC offers a wide range of courses in U.G and P.G.
Notable Achievements: At CMC the first Nursing Institute of India started in 1946, the medical college and hospital became the first place in the world to perform successful reconstructive surgery for leprosy also became the center where the first open heart surgery & kidney transplant took place in India.
There are a lot of people who have excelled in national and International Medical fields after receiving their education from this college. From the Placement history, we can analyze that almost all the students from this institution got placed in reputed Hospitals. CMC has a very good infrastructure and library.
Seat intake for MBBS is 100.Cut off to apply for MBBS is 50 percentile for General category and 40 percentile for other categories.
CMC admission committee releases merit list based on the applications received to provide admissions.
King George's Medical University, Lucknow
King George's Medical University is one of the premier Medical Institutes of India. But chances of securing admission into this college is high as its intake capacity is 250 in M.B.B.S.
Notable Achievements: This College was being ranked as one of the top colleges consistently by many organizations like Outlook India, The Week. Alumni and lectures of this college received prestigious awards like Padma Shri, Padma Vibhushan for their service in the medical field.
NEET Cut off for 2017 was in the range of 500 to 700 marks.
Kasturba Medical College, Manipal:
Notable Achievements: This college was the first self –financing medical college in India. It was involved in research in fields of medical science, around 3604 Journals & Research Publications were published,543 Books Published,643 Ongoing Research Projects,224 Clinical Trials were conducted. This depicts the importance given on the Research by this college.
Total intake for students in U.G is 360. This University has International Vibe which attracts International students as well.
NEET Cut off for 2017 was in the range of 450 to 700.
Facilities and Infrastructure are at par with the international standards. 100 % placements will be offered to the students from this institution.
Institute of Medical Sciences Banaras Hindu University, Varanasi:
It started functioning as a Medical college in 1960 and upgraded to the university in the meantime. Currently, it has 33 departments which include 10 departments of super specialties and departments of Ayurveda and many other.
Seat intake for M.B.B.S is 71. Cut off for 2017 might be in the range of 500 to 650.
This college is among top-rated universities nationally by NIRF (National Institute Ranking Framework). Government of India had decided to upgrade the institute on lines of All India Institute of Medical Sciences as part of phase-1 of Pradhan MantriSwasthyaSurakshaYojana (PMSSY)
Facilities and all other parameters of this Institution had been upgraded on Lines of All India Institute of Medical Sciences (AIMS).
St.John's Medical college:
St.John's Medical College is spread out on the vast campus of around 132 acres in Bangalore. It's a private Religious Minority Medical college. This college gains importance due to its vast campus and the modern state of art facilities offered to the students.
Notable Achievements: For the last 10 years this college has consistently been ranked among the top 10 medical colleges in the country. The National Assessment and Accreditation Council, a Review Committee of the University Grants Commission, has recognized the excellence of this College and Hospital and accorded it with a 5-star grading.
This college has an intake capacity of 60 students in MBBS and 30 students in P.G courses.
NEET Cut off in 2017 for MBBS course might be in the range of 80 to 90 percentile based on the past trends.
University College of Medical Sciences, Delhi (UCMS)
UCMS is affiliated to Delhi University and associated with Guru TejBahadur Hospital. It extended day by day by incorporating World class standards and following the norms defined by the government of India.
It is adapting to the changes and bringing the technologies to the students to teach them in a better way. Currently, there are 21 various departments in this college.
NEET Cut off in 2017 for MBBS might be in the range of 550-700.
Seat intake for an M.B.B.S course is 150. Students are provided with good placement opportunities.
Sri Ramachandra University
Sri Ramachandra University is a Deemed University located in Chennai. This college has collaborations with various International universities and has international fame which makes special among the other colleges.
Notable Achievements: This is the first teaching hospital in India to achieve accreditation by Joint Commission International. University has been accredited by NAAC with A grade with a CGPA of 3.62 on 4point scale, the highest to be awarded to a medical University in India
NEET Cut off for M.B.B.S 2017 might be in the range of 450 to 600. Students from this college will get a chance to work with major hospitals.
It has an intake of 250 students in M.B.B.S. Admissions in the various courses of this college are accepted based on your NEET score.
Students will get a chance to do research with the help of various International Organizations or pursue a job
Moulana Azad Medical College (MAMC), New Delhi
MAMC is a government Medical College affiliated to the University of Delhi. This College was established in 1936 by the British people. This college has produced eminent persons in the Medical field who are recognized globally.
Notable Achievements: Professors from this college received many prestigious awards, S.I.Padmavathi who was the former director of this college received Padma Vibhushan, which is one of the country's highest honor and many other awards by the staff.
NEET Cut off for M.B.B.S course might be in the range of 450 to 600.
Seat Intake capacity for M.B.B.S is 250.
JSS Medical College, Mysore
JSS Medical College is located in the beautiful place Mysore. Courses offered by this college are recognized by General Medical Council (U.K), Sri Lanka Medical Council and WHO. This college has students from all parts of the world.
Notable Achievements: This College has been recognized by the Royal College of Obstetricians and Gynaecologists, UK, for the award of MRCOG.
NEET Cut off for M.B.B.S course might be in the range of 450 to 600. Seats intake for the M.B.B.S course is 200.
This college promotes students to take up research as well in collaboration with the international fraternity.
Armed Forces Medical College (AFMC), Pune
AFMC is managed by Indian Armed Forces. AFMC is the only medical college from Asia where all expenses are paid by the Government (Ministry of Defence). Medical cadets receive free tuition, free lodging, and boarding, uniforms, book subsidies and an allowance for the upkeep of the uniforms.
Intake for Undergraduate MBBS course is 130.
Cut off score in NEET 2017 for M.B.B.S is 600.
Students will get an opportunity to make outstanding career by Serving in Defence sector
Lady Hardinge Medical College
Lady Hardinge Medical College for women is located in New Delhi. This college was established in 1900's by Lady Hardinge, wife of the viceroy of India. This college is funded by Government of India.
This college has a vast campus which has a good library, Labs, and auditoriums. This college offers courses in various departments. Especially Department of Microbiology is internationally acclaimed and it is a WHO collaborating center for reference and training in streptococcal diseases for South East Asia.
Notable Achievements: The college was ranked 7th in India in 2017 by Outlook. It is a surveillance center for AIDS. The first ART center for children in the country was established in this college.
It has an intake of 200 students in undergraduate MBBS course.
NEET Cut off score for M.B.B.S course might be in the range of 450 to 700.
We bring out this article after considering all the various factors which help you to make the right decision in choosing the right college. Hope you make the right decision and reach to the greatest point. All the Best!!