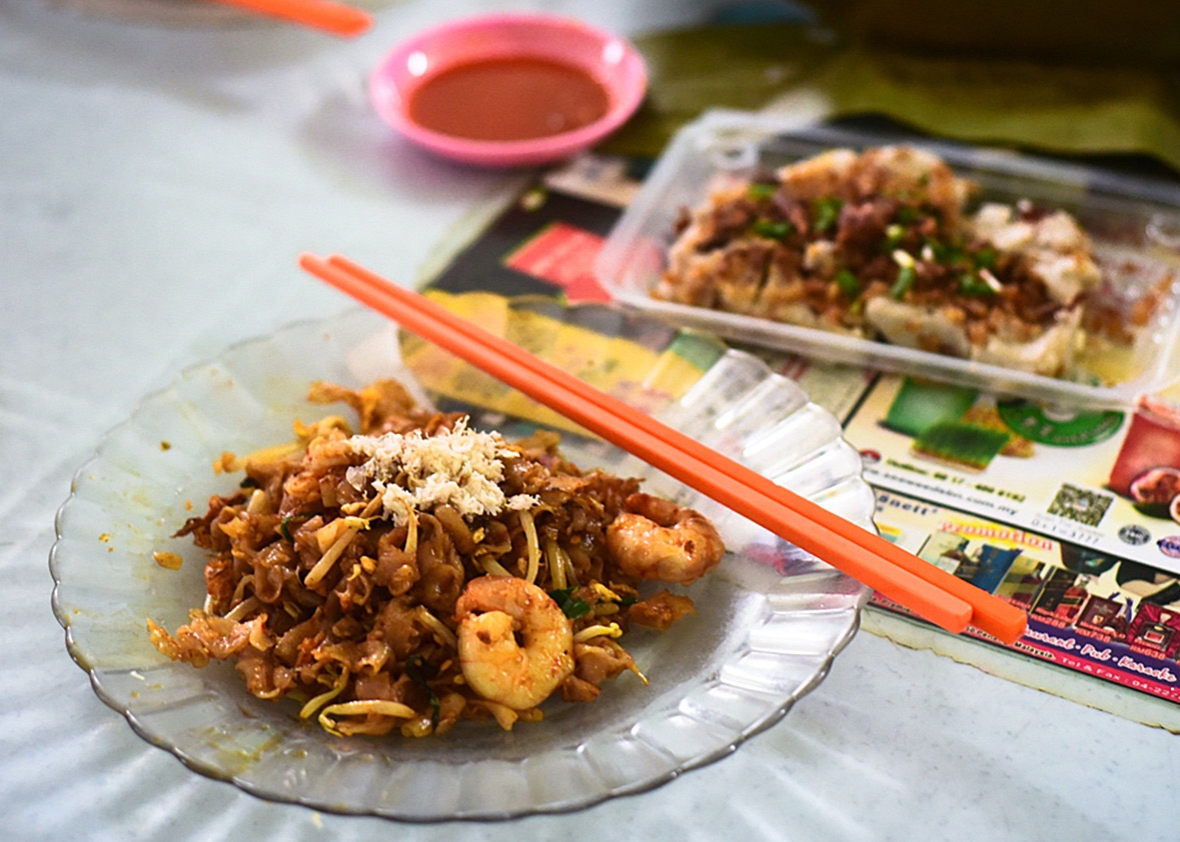 Each week, Roads & Kingdoms and Slate publish a new dispatch from around the globe. For more foreign correspondence mixed with food, war, travel, and photography, visit its online magazine or follow @roadskingdoms on Twitter.
AIR ITAM, Malaysia—Although in Malay, this small town's name means "Black Water," what makes it famous is not the water but its hawker food. The vendors in Air Itam sell the most blissful noodles I've ever tasted.
Walking by Keat Seng Restoran (which, although using the Malay term for restaurant, is not a restaurant but an assemblage of open-air hawker stalls) last month, three Hokkien words catch my eye: koay teow th'ng. Koay teow (flat rice noodles) with fish balls and fish cakes submerged in hot soup flavored with chicken stock and minced pork is a dish unique to Penang, and it was just what I needed on a sweltering morning.
I walk up to the elderly yet strong Malaysian-Chinese man dipping his sieve into the vat. Beside him, a young Malay lady serves koay teow th'ng in bowls to hungry patrons.
"Satu mangkuk?" One bowl? She asks me in Malay.
"Chi wah?" The old man asks the same question, but this time in Hokkien.
"Dui, yi wan." I reply in Mandarin. Yes, one bowl. It was a knee-jerk reaction, a result of having lived in Taipei for nine years and speaking Mandarin rather than Taiwan's version of Hokkien and having long lost the ability to speak in Penang Hokkien. I am a Penangite who is unable to speak either Malay or Hokkien. Shameful.
The lady brings a steaming bowl of koay teow th'ng to my seat. The marble tabletop is plastered with Malay-language advertisements for shampoo and beauty products.
Down the road from Keat Seng is Reservoir Garden Baptist Church, where my mom spent her Sundays, and nearby is the small single-story house where she grew up. A five-minute drive away is Maha Mariamman Temple, a late 19th-century Hindu temple that still holds boisterous celebrations during the Hindu festival of Thaipusam, and a stone's throw away is Kek Lok Si Temple. Completed around the same time as the Hindu temple, this ornate Buddhist temple on top of a hill has become a tourist spectacle.
"It's not the same as before," Penangites often say these days. Sometimes, they're referring to the influx of tourists. Sometimes it's the growing conflict between Penang's different ethnic and religious groups. But most of the time, it's food. Each time I visit Penang, family friends tell me stories about hawkers who have retired after 60 years in the business, and young people who either don't not know how to cook or who do not want to be hawkers. It made me think of my grandma, an amazing home cook, now living in Seoul with my parents.
Like a scuba diver heading to the Great Barrier Reef before it disappears, on my latest trip to Penang, I made it a mission to spend an entire day eating at family-run hawker stalls that have been in continuous operation since my grandma's childhood, before these places are gone, too
[Source"cnbc"]